Introduction to Hypnotherapy Workshop – Online via Zoom
March 27 @ 10:00

-

16:00

GMT
Introduction to Hypnotherapy One-Day Workshop!
Would you like to learn more about Hypnotherapy and how to use self-hypnosis as a tool for calmness? Join us on this online workshop and find out!
➡️ Have you ever wondered what hypnotherapy is all about?
➡️ Would you like to learn a simple self-help tool that will help you feel calmer and more relaxed?
➡️ Perhaps you are thinking about training as a hypnotherapist?
➡️ You may be a counsellor, psychologist or another therapist who is interested in exploring whether hypnotherapy might be a good add-on for your practice?
If you have answered YES to ANY of these questions then this Introduction to Hypnotherapy workshop is for you!
During the day you will learn:
➡️ What hypnotherapy is and how it has developed
➡️ You will have fun trying out some suggestibility tests
➡️ You will learn 5 easy steps that will help you experience self-hypnosis which you will practice on the day in small groups
➡️ How to add visualisation to self-hypnosis to help make changes in your life
You will receive a free mp3 recording via WhatsApp that will help you to practice the 5 steps at home and a certificate of attendance for CPD purposes. If you decide to sign up for our foundation or diploma course your workshop fee is refunded against the cost of the course. This training counts as day 1 of our Foundation and Diploma course, for the Foundation course the remaining 6 days are going to be offered on 24/25th April and 8th/9th/22nd/23rd May. The Diploma requires an additional 10 days after the Foundation course is completed which continues monthly until November (one weekend a month approximately). Please note these additional sessions may be online or in person in Canterbury, Kent dependant on the current government restrictions.
The workshop is facilitated by two experienced Hypnotherapists Marcia Tillman and Julie Taylor. Marcia has over 18 years experience as a Hypnotherapist and 10 years experience as a Counsellor, Julie has over 12 years experience as a Hypnotherapist and NLP practitioner. Both have extensive experience working with clients as well as training others to become Hypnotherapists.
As this workshop is online you will need access to a laptop/desktop computer that has a webcam and microphone built in or added and access to broadband. You will also need to have access to a quiet, private space. This training involves some practice with fellow attendees, so you will during the training attend online breakout rooms to practice some skills you have been taught.
This workshop is not suitable for you if:
*You have severe mental health issues like psychosis, severe panic attacks or severe clinical depression
*You have epilepsy that is triggered by relaxation or sleep
*Any neurological disorder which means you can't focus and follow instructions easily
If you are not sure please contact us:
Contact Details
Our Hypnotherapy Training – https://lifeclinicstraining.com/
Our Hypnotherapy Appointments – https://lifeclinics.com/
Email – marcia@lifeclinics.com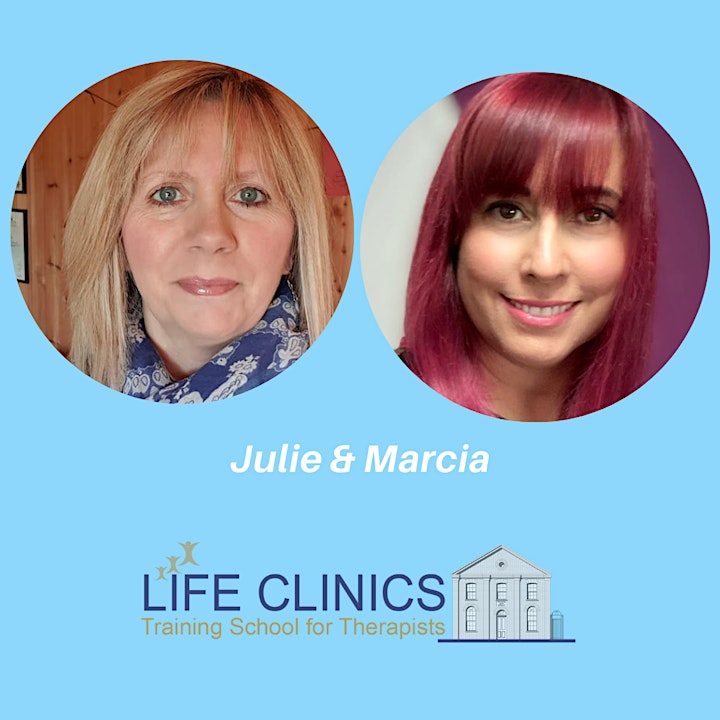 Related Events